UNLEASH YOUR CREATIVITY IN 60 SECONDS
THINKVID brings you the chance to meet them.
Participate in the "MERI KAHANI" contest get and win exciting prices in only 60 seconds.
Take a minute out of your busy schedule and make a video of only 60 seconds, telling us about any story of your life that you think can people connect with. Post it on any of your social media handles using hashtags #ThinkVidMeriKahani #ThinkVid2020. The best 3 video makers will win free entry passes to India's biggest carnival of YouTubers, Instagrammers, and Influencers – THINKVID, at the pink city, Jaipur.
Not only this, but the winners will also get an opportunity to see their favorite internet stars live and get felicitated from them. Also, this will bring you fame as you will be introduced to the 250+ budding YouTubers/Influencers/Instagrammers at the event and will get the screening done from the main stage which will open doors to a great network for you.
And, yes! The best one will also win GoPro Hero.
C'mon people. Time to ACT & GRAB !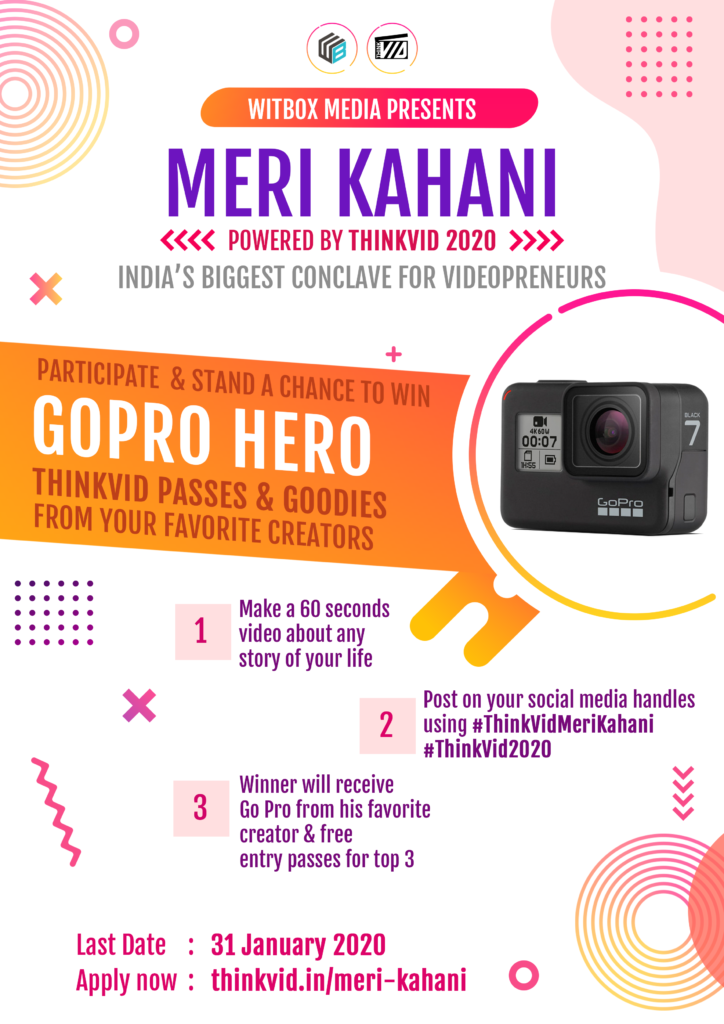 The duration of the video should not exceed 60 seconds.

The video can be in any format, i.e. a vlog, an explanatory video, a story, etc.

Only one entry will be entertained by each participant.

Hashtags mentioned above are must-to-be mentioned in the caption, otherwise, your entry would not be considered.

The video can be about any segment of your life that you think can help you win.

You can post your video on any social media platform, say, Instagram (as a feed and not a story), YouTube, etc.

The last date to participate is 29 February 2020
ThinkVID is India's biggest YouTubers' Conclave that is bringing big YouTubers under one roof for one simple objective i.e. giving something back to the community and helping budding creators grow.